Respira x Drop Dead
(4.7)
Regular price
$0
Sale price
$90 USD
Unit price
per
var product = { id: 6734515535947, title: "Respira x Drop Dead", available: true, handle: "respira-x-dropdead", description: "\nDesigned in collaboration with UK label Drop Dead, the Respira is a dagger-like ear cuff with an articulating spike inspired by neo-tribal shapes and patterns. The over-the-ear design is finished with laser-etched collaboration branding.Materials: Stainless Steel. No piercing required. The backing bar and over-ear hook must be gently bent to achieve desired fit. ", type: "Ear Cuffs", tags: ["Discountable","dropdead","Ear Cuffs","Earrings","Queen CAD","Retail Melrose","Vitaly","Vitaly EU"], options_with_values: [{"name":"Colour","position":1,"values":["Stainless Steel"]},{"name":"Size","position":2,"values":["S","L"]},{"name":"Ear","position":3,"values":["Left","Right"]}], colors: null, featured_media: { alt: "stainless-steel", src: "\/\/www.vitalydesign.com\/cdn\/shop\/products\/Respira-Vitaly-DropDead-SS-1.jpg?v=1656080644" }, url: "\/products\/respira-x-dropdead", mf: { } }; var variants = []; var variant = { id: 39791126413387, available: false, options: ["Stainless Steel","S","Left"], option1: "Stainless Steel", option2: "S", option3: "Left", inventory_quantity: 0, price: 9000, compare_price: 0, media: { alt: "stainless-steel", src: "\/\/www.vitalydesign.com\/cdn\/shop\/products\/Respira-Vitaly-DropDead-SS-1.jpg?v=1656080644" }, mf: { } }; variants.push(variant); var variant = { id: 39791126446155, available: true, options: ["Stainless Steel","L","Left"], option1: "Stainless Steel", option2: "L", option3: "Left", inventory_quantity: 1, price: 9000, compare_price: 0, media: { alt: "stainless-steel", src: "\/\/www.vitalydesign.com\/cdn\/shop\/products\/Respira-Vitaly-DropDead-SS-1.jpg?v=1656080644" }, mf: { } }; product.currentVariant = variant; variants.push(variant); var variant = { id: 39791126478923, available: true, options: ["Stainless Steel","S","Right"], option1: "Stainless Steel", option2: "S", option3: "Right", inventory_quantity: 12, price: 9000, compare_price: 0, media: { alt: "stainless-steel", src: "\/\/www.vitalydesign.com\/cdn\/shop\/products\/Respira-Vitaly-DropDead-SS-1.jpg?v=1656080644" }, mf: { } }; variants.push(variant); var variant = { id: 39791126511691, available: true, options: ["Stainless Steel","L","Right"], option1: "Stainless Steel", option2: "L", option3: "Right", inventory_quantity: 27, price: 9000, compare_price: 0, media: { alt: "stainless-steel", src: "\/\/www.vitalydesign.com\/cdn\/shop\/products\/Respira-Vitaly-DropDead-SS-1.jpg?v=1656080644" }, mf: { } }; variants.push(variant); product.variants = variants;
Designed in collaboration with UK label Drop Dead, the Respira is a dagger-like ear cuff with an articulating spike inspired by neo-tribal shapes and patterns. The over-the-ear design is finished with laser-etched collaboration branding.

Materials: Stainless Steel. No piercing required. The backing bar and over-ear hook must be gently bent to achieve desired fit.
Pierced earrings including earring pendants are non-returnable for reasons of hygiene and safety.
Lifetime Warranty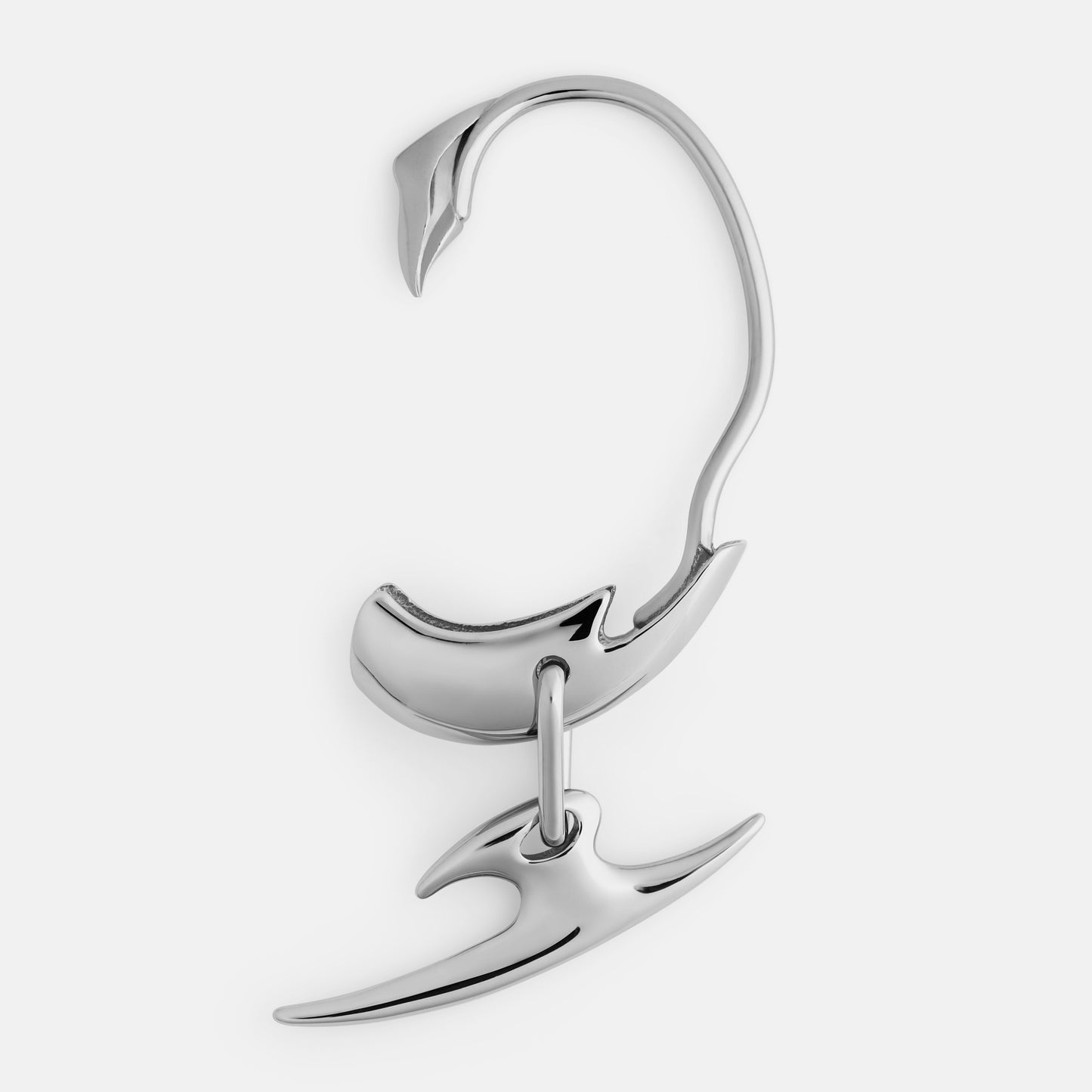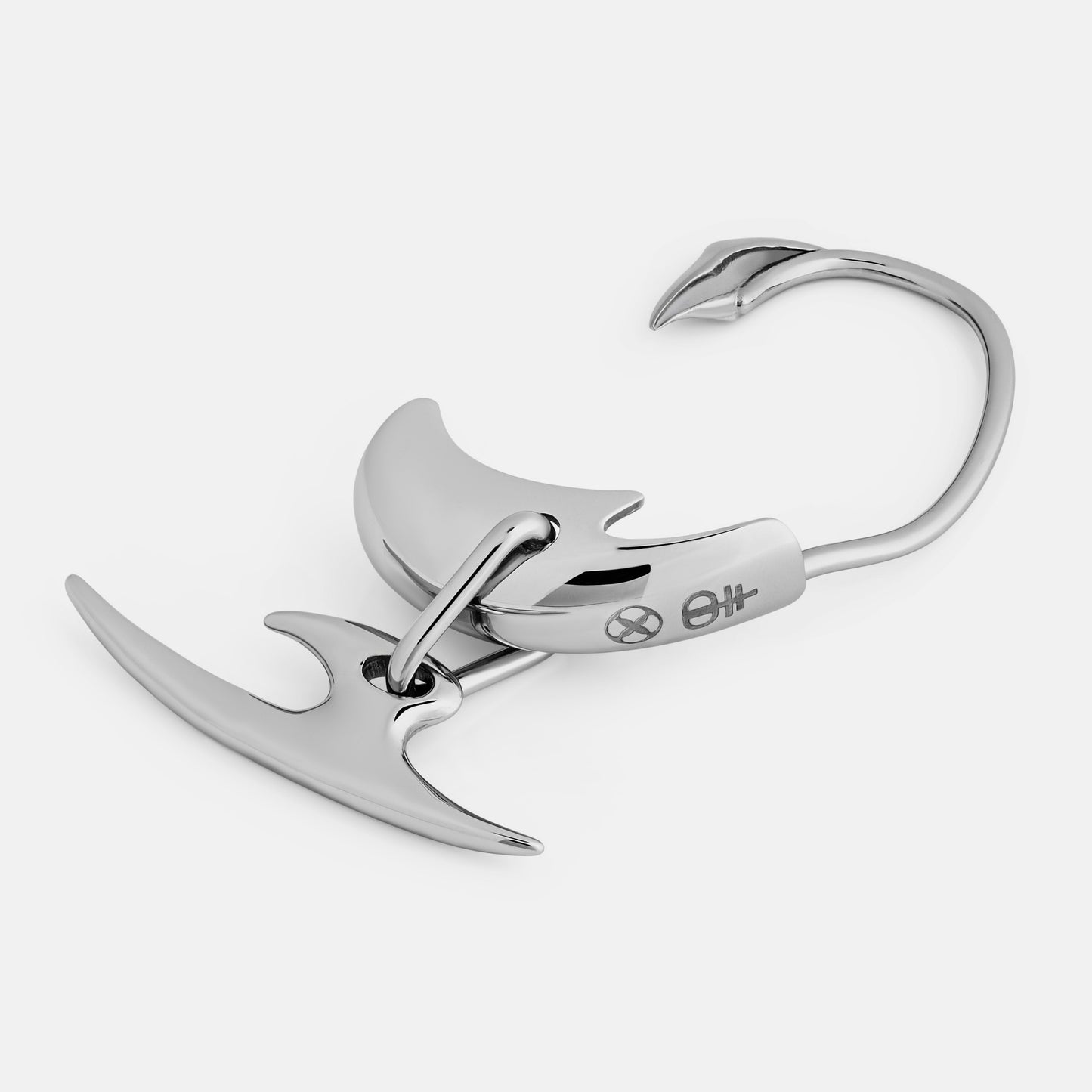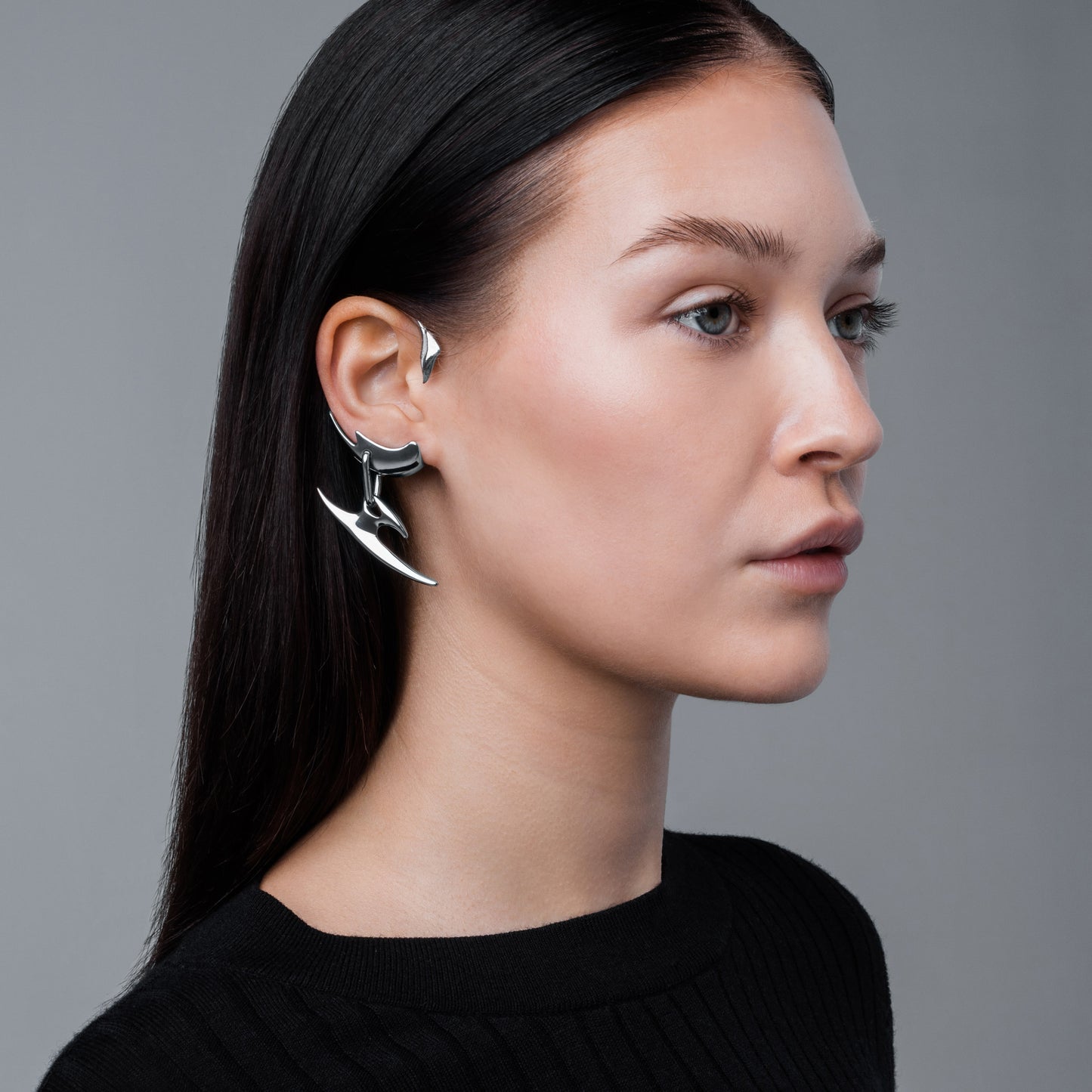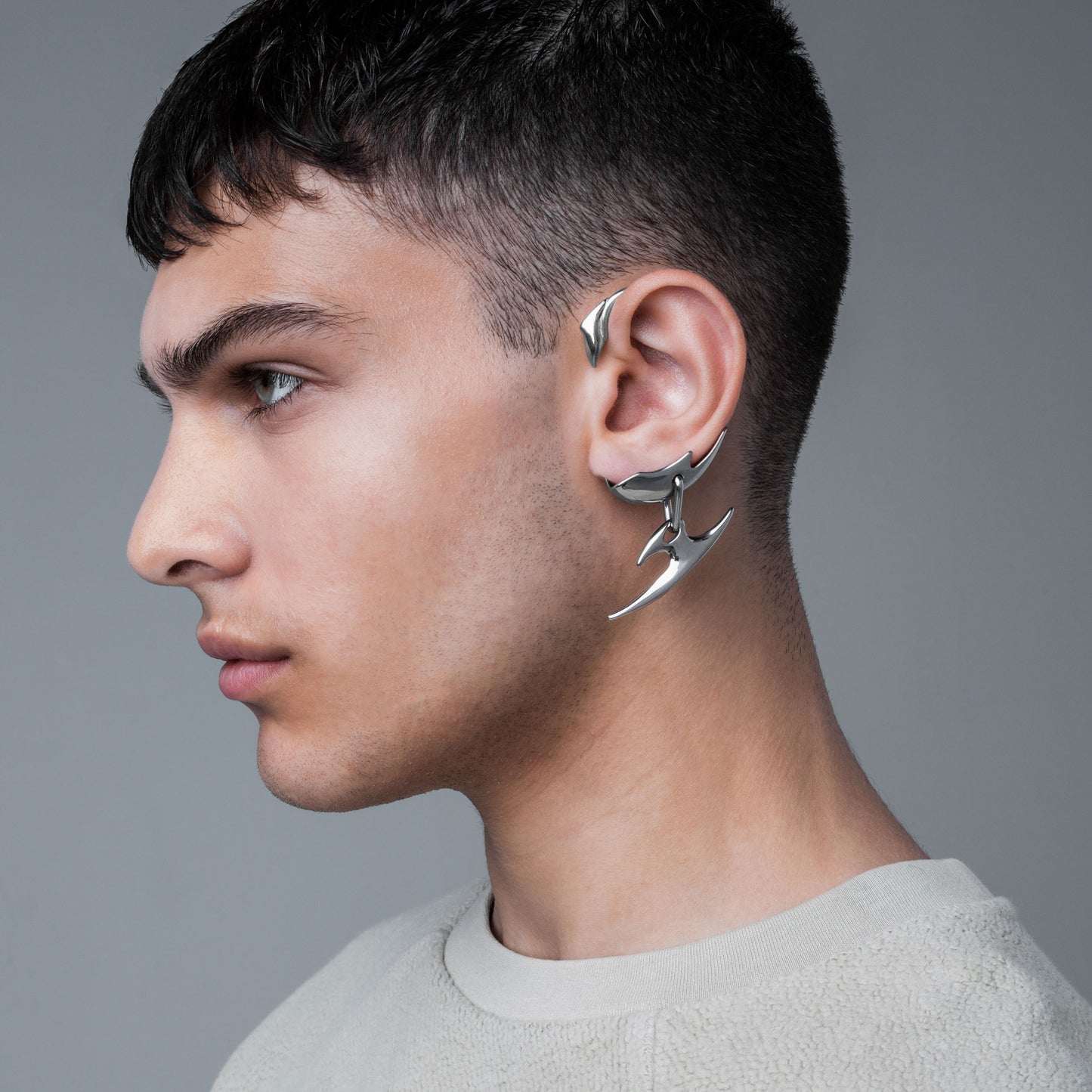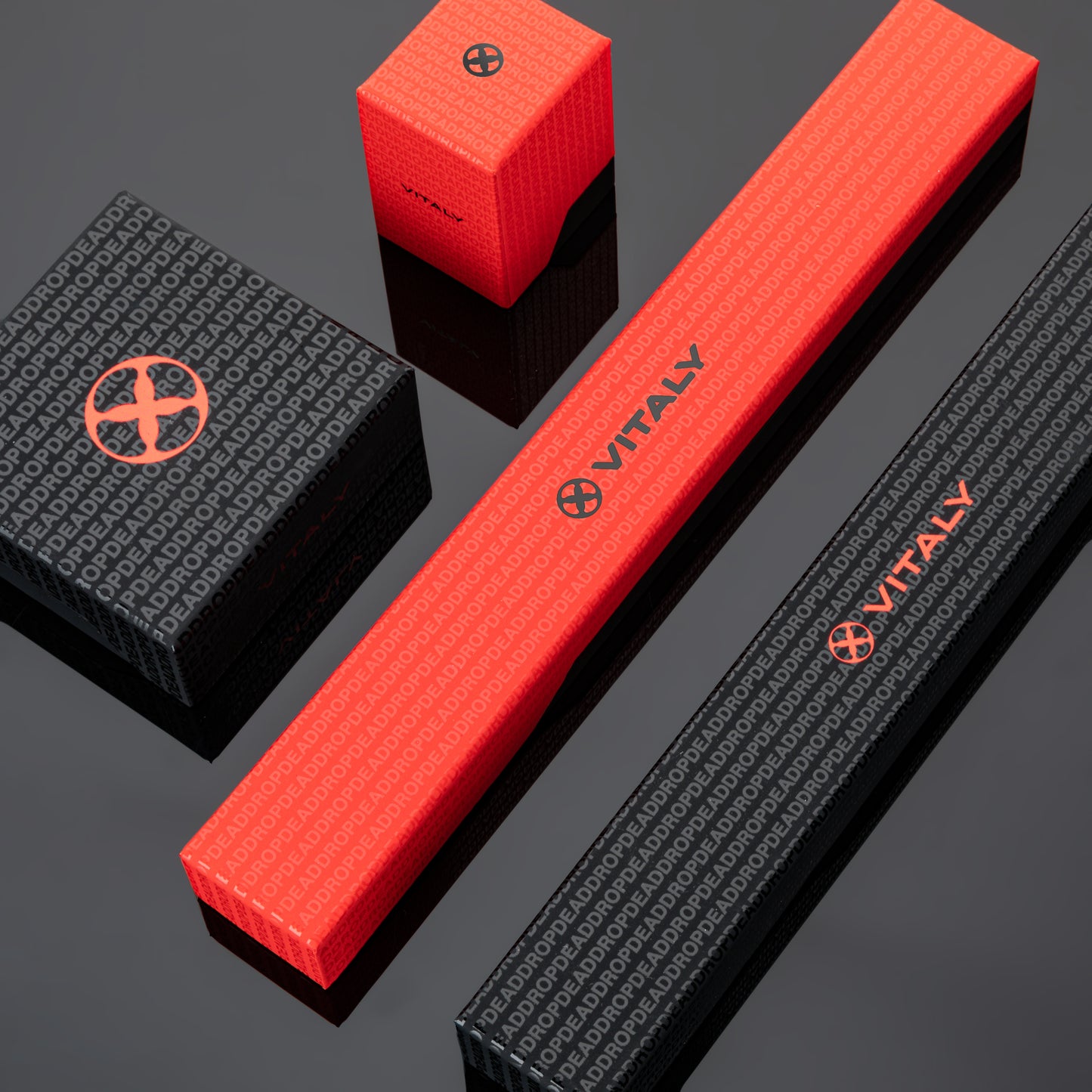 Lifetime Warranty
Our accessories are made from stainless steel — a metal that does not rust, tarnish, or turn your skin green. Finishes, such as gold, black and gasoline, are created using anodized stainless steel and plated at up to 0.8 microns for maximum durability.
Based on the properties of this metal, all of our accessories are covered by a Lifetime Warranty.

Accessory Design Studio.
Engineered staples and contemporary statements.Made for the future with 100% recycled stainless steel.
Steel is the most recycled material on the planet. Each Vitaly piece may therefore contain remnants of machines, skyscrapers or car parts — a cycle that continually influences our design practice.