Smoke Signal Ashtray
(5.0)
Regular price
$0
Sale price
$95 USD
Unit price
per
var product = { id: 6796072878155, title: "Smoke Signal Ashtray", available: true, handle: "smoke-signal-ashtray", description: "\nThe Smoke Signal is a contemporary ashtray with a structural aesthetic. The removable top reduces the spread of smoke, while the the notched corner-cut serves as a convenient resting place. Features an articulating hoop for ease of use, and comes finished with laser-etched branding on the front and top.\nSize: 10.4cm x 10.5cm x 5.5cm (4.1\" x 4.1\" x 2.2\")\nMaterials: Aluminum", type: "Homewares", tags: ["Discountable","Homewares","Queen CAD","Retail Melrose","Vitaly","Vitaly EU","Vitaly Wholesale USD"], options_with_values: [{"name":"Colour","position":1,"values":["Aluminum"]}], colors: null, featured_media: { alt: "aluminum", src: "\/\/www.vitalydesign.com\/cdn\/shop\/products\/SmokeSignal-Vitaly-SS-1.jpg?v=1675090909" }, url: "\/products\/smoke-signal-ashtray", mf: { } }; var variants = []; var variant = { id: 39955542900811, available: true, options: ["Aluminum"], option1: "Aluminum", option2: null, option3: null, inventory_quantity: 11, price: 9500, compare_price: 0, media: { alt: "aluminum", src: "\/\/www.vitalydesign.com\/cdn\/shop\/products\/SmokeSignal-Vitaly-SS-1.jpg?v=1675090909" }, mf: { } }; product.currentVariant = variant; variants.push(variant); product.variants = variants;
The Smoke Signal is a contemporary ashtray with a structural aesthetic. The removable top reduces the spread of smoke, while the the notched corner-cut serves as a convenient resting place. Features an articulating hoop for ease of use, and comes finished with laser-etched branding on the front and top.
Size: 10.4cm x 10.5cm x 5.5cm (4.1" x 4.1" x 2.2")
Materials: Aluminum
Lifetime Warranty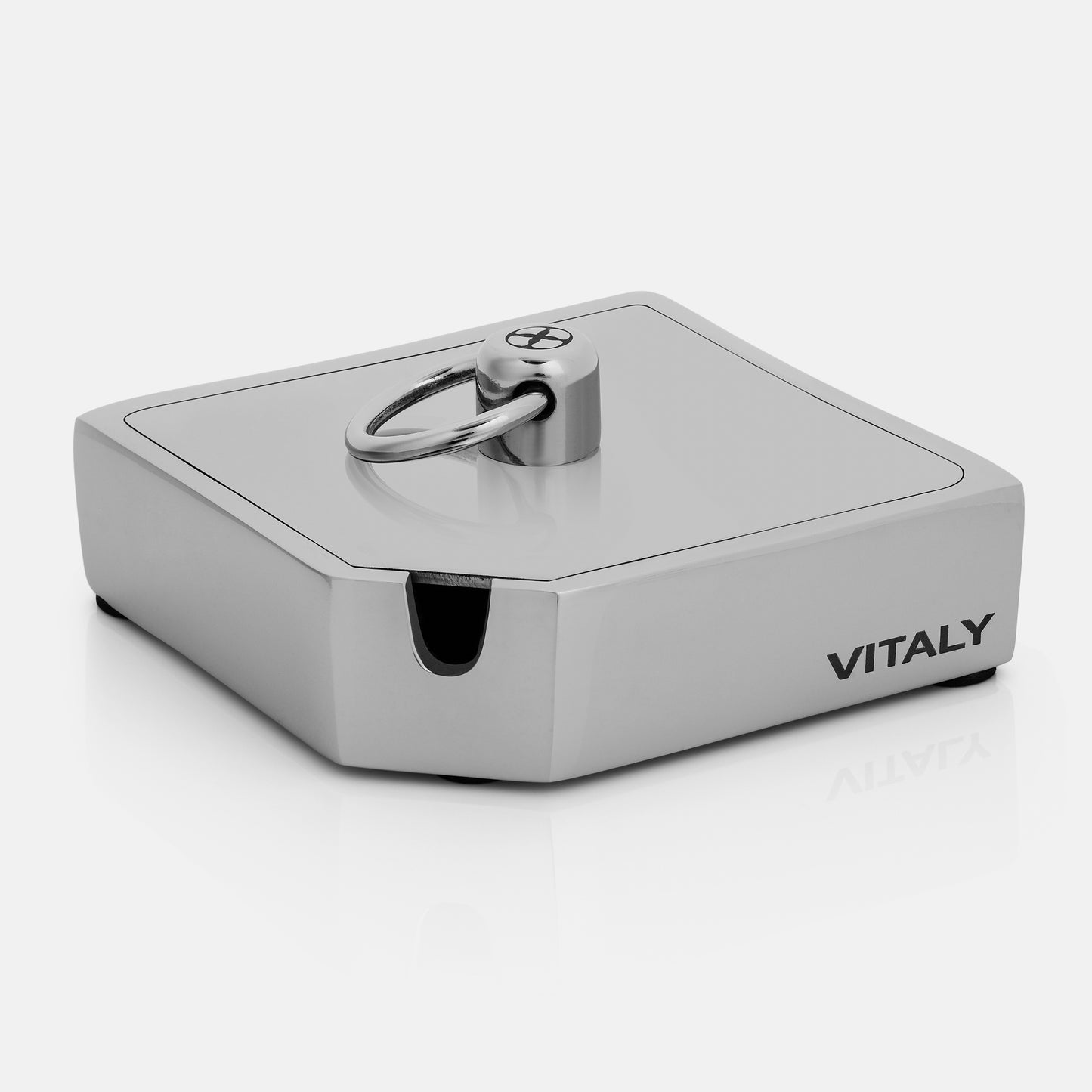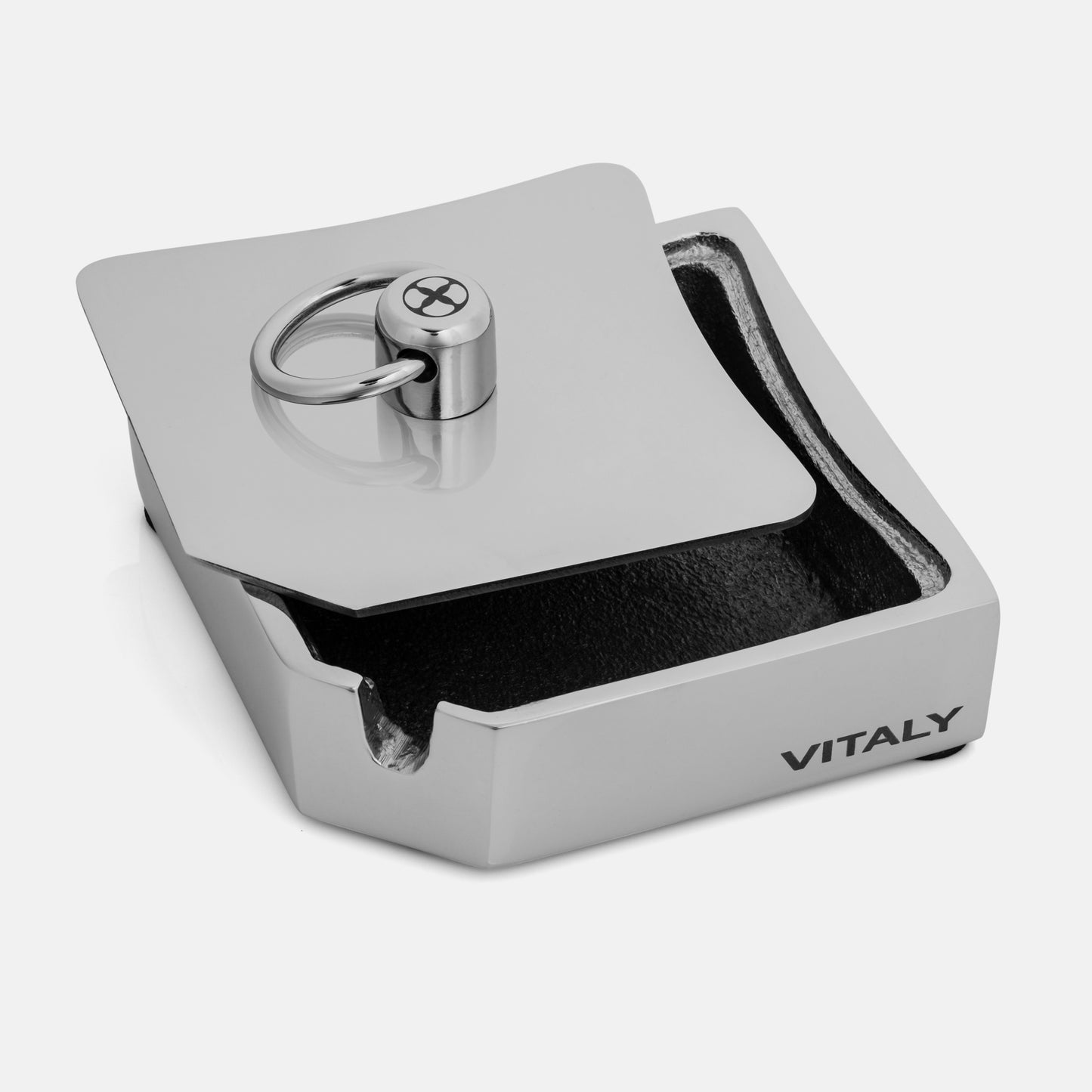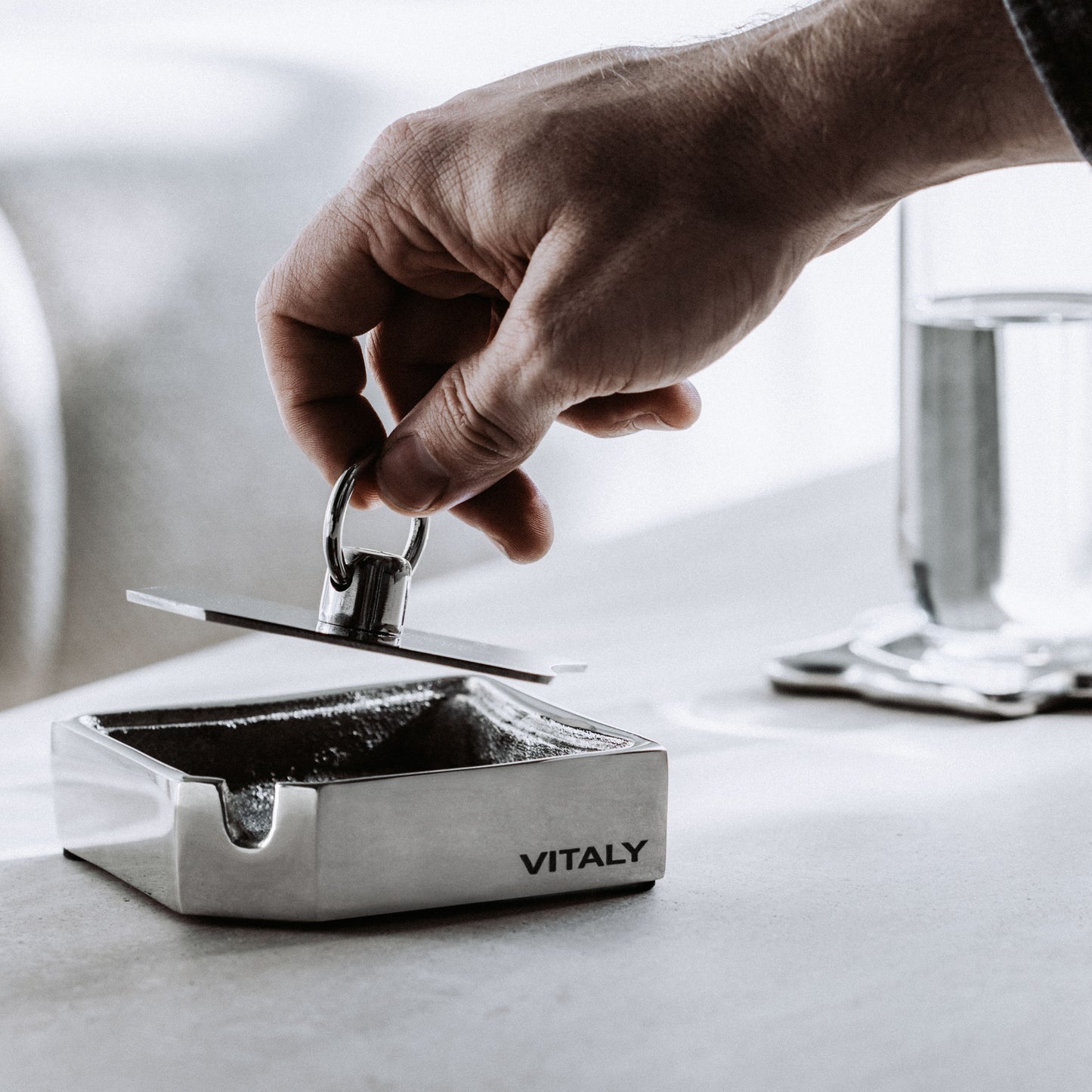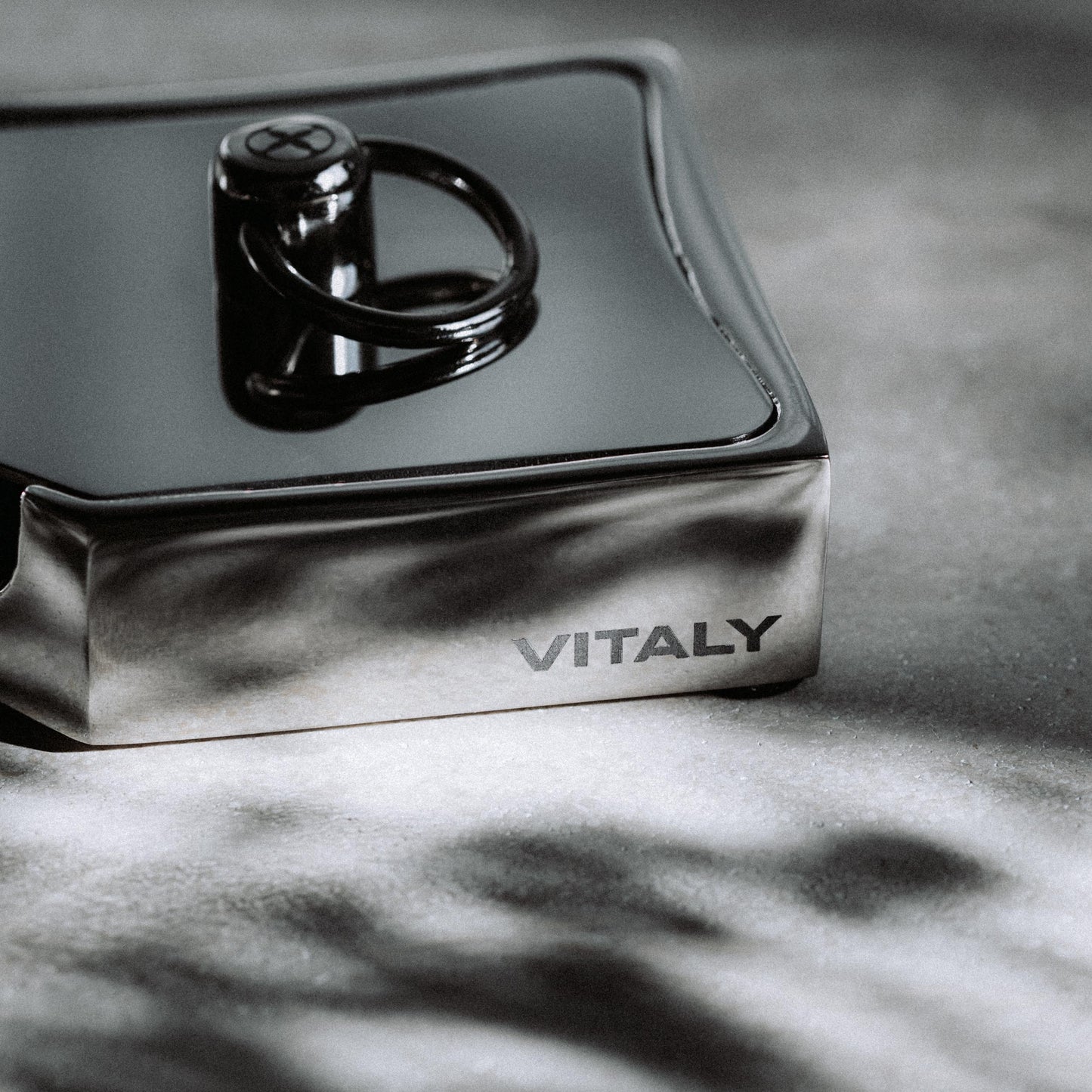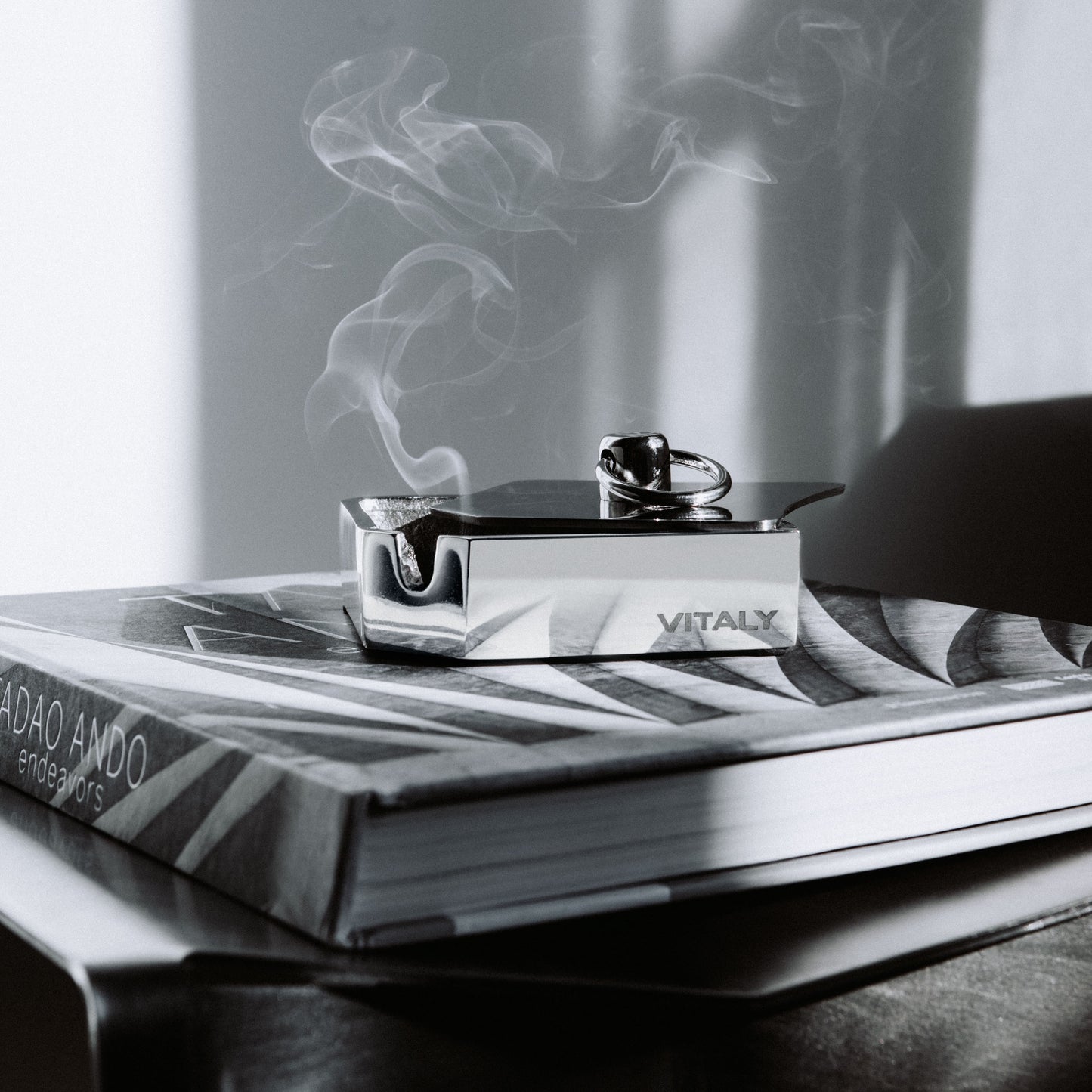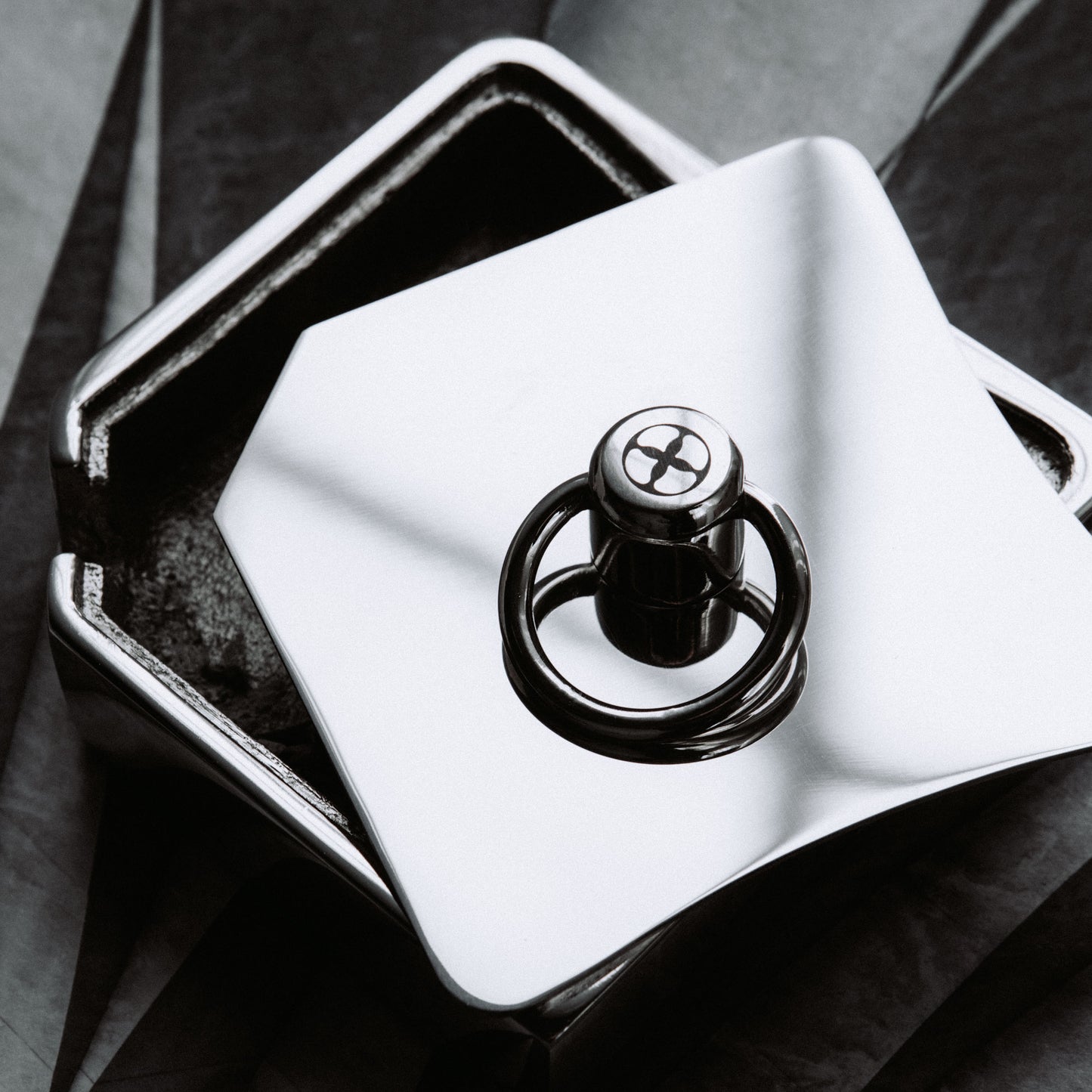 Lifetime Warranty
Our accessories are made from stainless steel — a metal that does not rust, tarnish, or turn your skin green. Finishes, such as gold, black and gasoline, are created using anodized stainless steel and plated at up to 0.8 microns for maximum durability.
Based on the properties of this metal, all of our accessories are covered by a Lifetime Warranty.

Accessory Design Studio.
Engineered staples and contemporary statements.Made for the future with 100% recycled stainless steel.
Steel is the most recycled material on the planet. Each Vitaly piece may therefore contain remnants of machines, skyscrapers or car parts — a cycle that continually influences our design practice.